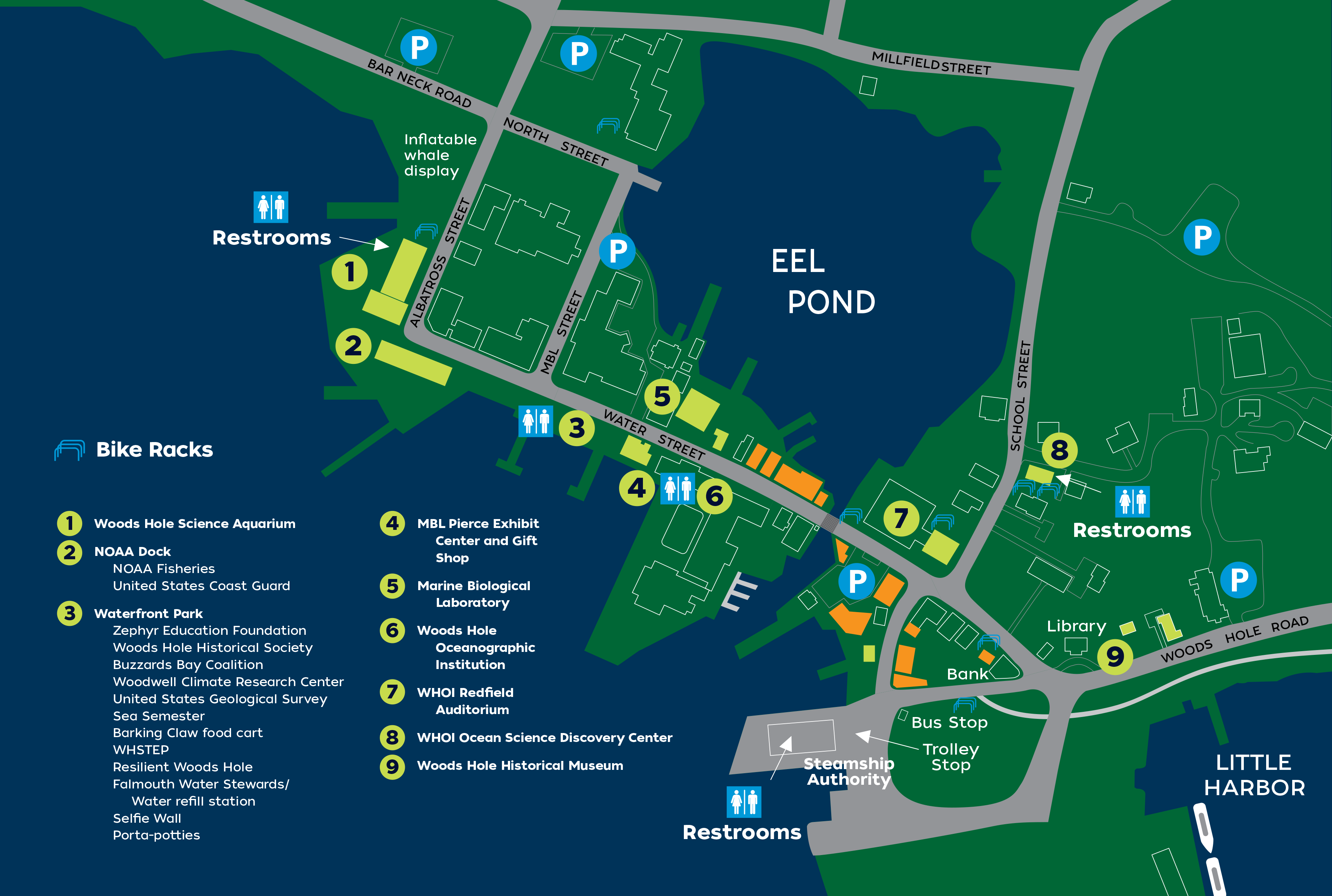 Participating Science Organizations:
1. Woods Hole Science Aquarium
The Woods Hole Science Aquarium, part of NOAA Fisheries, features dozens of species of marine animals and is home to harbor seal Bubba. A life-size inflatable humpback whale (weather permitting) will be open for visitors in the parking lot nearby.
2. NOAA Dock
NOAA Fisheries
Research on marine life of all sizes, from whales and sharks to plankton and the microscopic, fish biology, water chemistry, offshore wind, climate change, and cooperative research programs with the commercial fishing industry are among the many areas of research conducted at the Woods Hole lab of NOAA Fisheries Service. A local commercial scalloper and the 72-foot NOAA Fisheries research vessel Gloria Michelle will be at the dock open for visitors.
United States Coast Guard (USCG)
A USCG 45' Response Boat will be at the NOAA dock plus the Coast Guard Auxiliary will provide information on Boater's Safety as well as Coast Guard Recruiting. There will be Coast Guard gear that to try on, a cornhole bag toss, and a heaving line throwing game. A crew will be standing by to provide tours. Please be sure to wear closed toed shoes. A search and rescue demo is also scheduled, pending weather and any Coast Guard Emergency situations.
3. Waterfront Park
Buzzards Bay Coalition
Stop by the Buzzards Bay Coalition tent for all things Buzzards Bay! Check out our giant scallop model, learn about the importance of clean water for all of our Bay's wildlife, and take home a fun craft.
Falmouth Water Stewards
A science-based advocacy and education organization is the only group solely dedicated to protecting and restoring Falmouth's precious fresh and coastal waters. The Falmouth Water Stewards offer a FREE Water Refill Station located in Woods Hole Waterfront Park.
Resilient Woods Hole
We want to hear from you - tell us what you love about Woods Hole! The ResilientWoodsHole initiative is driven by the collective love for the Woods Hole Village to see it prosper into the future. Stop by the ResilientWoodsHole tent to learn more about sea level rise and coastal storm flooding, some ways to adapt, and tell us what you love about Woods Hole. Our tent features some maps and has a coloring activity for kids!
Sea Education Association
Visit the Sea Education Association's interactive display and learn about marine plastics, ocean creatures, and current research from our students and faculty. SEA has been educating students all over the world for over 50 years and operates two sailing vessels where students conduct oceanographic research at sea. Stop by and talk to our experts to learn more!
United States Geological Survey (USGS)
Science for a changing world! Watch drone demonstrations, explore seafloor mapping equipment, play with a watershed table, use our virtual reality goggles, learn about coastal modeling, and so much more! 
Woods Hole Science and Technology Education Partnership (WHSTEP)
Woods Hole Science, Technology, and Educational Partnership (WHSTEP) will be focusing on the importance of pollinators. Josh Leveque from Falmouth Academy, one of our member schools will have kid friendly pollinator activities as well as a wealth of information to share with them. Along with WHSTEP information, we will also have paper cups to decorate and fill with soil and seeds to promote pollinator friendly planting.
Woodwell Climate Research Center
Explore our changing planet with Woodwell Climate Research Center. Find ice wedges and mammoth bones in a virtual reality tour of tunnels through long-frozen, but now thawing, Arctic permafrost. Learn how human activities are kicking off natural warming cycles with screenings of Earth Emergency.
Woods Hole Children's School of Science
Woods Hole Diversity Initiative and Diversity Advisory Committee
In 2004, the leaders of six Woods Hole science institutions signed a memorandum committing their institutions to work together to attract and retain a more diverse workforce. That memorandum established the Woods Hole Scientific Community Diversity Initiative.
The Diversity Initiative in turn established an advisory committee to make recommendations as to how the institutions can make the village a more diverse, more inclusive community - that's us, the DAC.
PARTICIPATING INSTITUTIONS
Marine Biological Laboratory · National Oceanic and Atmospheric Administration · Sea Education Association · US Geological Survey · Woods Hole Oceanographic Institution · Woodwell Climate Research Center
Zephyr Education Foundation
Middle school, high school and college classes visiting Zephyr in Woods Hole participate in hands-on marine science educational activities on the water on Vineyard Sound. At the Science Stroll we will be showcasing our interactive Augmented Reality Topographic Modeling System.
Falmouth Academy
FALMOUTH ACADEMY'S SCIENCE IN THE REAL WORLD PROGRAM is rooted in the belief that curiosity starts in the classroom, then travels to places in the natural world where the processes of biology, chemistry, and physics occur. From woodland expeditions to mountain excursions to ocean voyages, our students study science where it happens. Our students are exposed to a wide range of scientific opportunities both in the classroom and in the real world. Every year, all students in grades 7-10 complete independent research on a topic of their choosing and then present the results of their extended inquiry at the annual FALMOUTH ACADEMY SCIENCE & ENGINEERING FAIR. Upper-school students have the opportunity for MENTORSHIPS for their science projects through the local science community. Students in 9th grade participate in Falmouth Academy's CHANGING EARTH PROGRAM where engage in a year-long cross-curricular exploration in science, history, and English of global change and the relationship between humans and the natural world. Extended INTERNSHIPS are available to upper-school science students at WHOI's Virginia Edgcomb Laboratory. All students are invited to participate in FA WiSE (Women in Science and Engineering), which provides weekly programming and guest lectures. Lastly, since 2019 small groups of FA students have participated in the Marine Biological Laboratory's CRISPR/Cas9 Genomic Editing of Aquatic and Marine Organisms course. Falmouth Academy's mission is to harness the power of inspired learning in a world-renowned scientific and vibrant artistic community to embolden each student to take creative and intellectual risks to confidently engage in the challenges of our times. Stop by to learn more, talk with staff and students, and see some of our students' original research. LEARN MORE: falmouthacademy.org
4. MBL Pierce Exhibit Center and Gift Shop
Learn more about the Marine Biological Laboratory by visiting the Pierce Exhibit Center. Colorful exhibits, designed for all ages, tell the story of the MBL and its impact on life sciences. Live animals, stunning underwater video footage, a hands-on microscope, and an interactive squid are all part of the visitor experience.
5. Marine Biological Laboratory
Get up close to live marine creatures living in the waters surrounding Woods Hole and learn how MBL Scientists draw upon nature to teach us more about our environment and even ourselves.
6. Woods Hole Oceanographic Institution (WHOI)
Meet scientists & engineers at Woods Hole Oceanographic Institution (WHOI) and learn about current research. See first hand some of the robotic vehicles, gliders, and moorings used to learn more about our world oceans. We will also be lots of fun activities for you and your family to enjoy!
7. Woods Hole Film Festival (WHFF) - Redfield Auditorium
Will be showing the film "BRUCE & ALVIN"
A co-production of SmartyPants Brooklyn and the Woods Hole Film Festival, Film & Science Initiative
A short documentary about the history and future of Alvin, one of the world's only remaining publicly-funded manned submersibles, as told through the eyes of long-time Woods Hole Oceanographic Institution pilot Bruce Strickrott. We learn about the inspiration for this unlikely hero of the sea whose capacity to help us to see the deepest parts of the world's oceans in person has lead to discoveries that were once considered to be impossible. As a pilot and program manager, Bruce views his job as one which allows him to change lives by taking scientists to the ocean depths. As one of a handful of people on earth who operates this vehicle, Bruce is aware of the importance of what he does and of the need to pass on this knowledge to future generations to support science and discovery. BRUCE AND ALVIN a short documentary by Josh Seftel, USA, 2021, 24 mins.
8. WHOI Ocean Science Discovery Center
Immerse yourself in the research that happens here through interactive video, sound, and scale models of our ocean exploration vessels. Visit our gift shop or shop online.
9. Woods Hole Historical Museum (WHHM)
Connecting the history of reasons Woods Hole developed into the nation's center of marine research, exploration, and education - becoming home base to WHOI, MBL and NOAA. Fun family activities: Learn about nautical flags and marine knot tying along with Woods Hole history.
2023 Participating organizations: